How I made this Website
You know your webpage is old when you have a webpage explaining how you made your webpage.
I used a Nikon CoolPix 2500 and iPhoto/Photos and GraphicConverter for many of the images, eventually I got an iPhone and then another iPhone, and then another iPhone plus a better camera. For the most part little digital editing was done except to crop and resize the images. I used BBEdit to write the markup. And I still maintain it by hand but you really should move to a CMS such as WordPress. The pages will be more easily read on reasonably large monitors sorry all you PDA surfers out there. I eventually made it more mobile friendly. Note this web site uses XHTML and CSS exclusively so it should be browsed with a browser that supports web standards.
Although I've heavily modified it, and used it for years so it seems like mine, the actual layout of this site was based on code made by Blue Robot. I hope to tweak it further if I have time. I also would credit Eric Meyer as my CSS guru, check out his book. Apparently if you click on Previous news and updates... you can still see where he thanks me (Andrew McKay) for finding some tiny mistakes in his otherwise excellent book.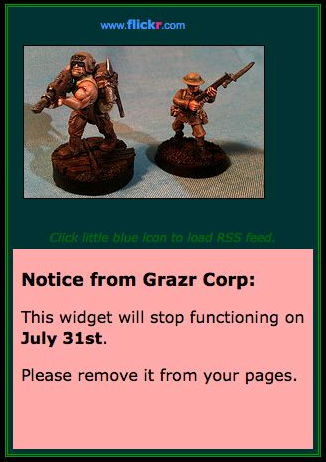 On Saturday July 24th, 2010 I finally brought the frontpage into the Web 2.0 era. I used the Flickr badge to display one random finished miniature I'd posted to Flickr. I ended up using Grazer to display the RSS feed, I tried a variety of other solutions and they didn't work as advertised, PHP coders need to work a lot on their documentation. We'll see if I adjust it more, even Grazer doesn't work exactly as it says it will, the font-size is messed up for instance...
Only a few days later I update some other content on my Nurgle subdomain and I see the following:
So I complied and took another screen shot which you can see on the left. This was a short term solution, so after not getting seriously considered for a job because I hadn't worked exclusively in tech for a while, I revised my resume, hopefully showing some of my recent accomplishments are still impressive and that I still have useful IT skills. I had to Google for some other solutions, several were investigated, they didn't work as advertise or more correctly their documentation was substandard. I'm not the world's greatest web designer, but I have over a decade of experience working on webpages and websites. I even have a Bachelors degree in Computer Science so if I can't get your script to work quickly or you're more interested in selling ads than helping out a person just trying to keep an old hobby website up to date, well... I'm moving on.
Here is a brief account of why Grazr is no longer available, in short money. It didn't make any and now I have some combination of JavaScript and PHP that other people wrote which is minimal but enough for this simple hobby site for now.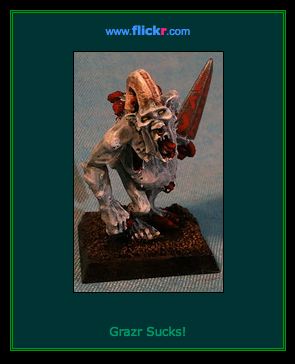 The solution I did get working, though not perhaps perfectly just yet was created by the website Dynamic Drive. It works in Opera and Firefox on the Mac and was up and running with a few instructions, an upload or two, and getting the paths correct, which for me involved "./". I tweaked it a bit but never got Categories or Descriptions to work correctly. I think the script or the underlying PHP library (SimplePie) it relies on are not jiving with my new WordPress.com hobby blog exactly. I don't need the fanciest solution, I just want people who come to this domain to see my latest painted models and the latest tutorials and tips I write and post to the web, at least the ones that are Nurgle related. I got that working now so I can leave the cafe perhaps and get some painting done.
I added a favicon to Muschamp.ca and a seperate one to this website. I used the family shield, which I kid you not is three flies resplendant on a field. Now that is a heraldy of Nurgle.
Words and Images © Andrew "Muskie" McKay.
Last Updated: